William Wallace
Talk

2
2,033pages on
this wiki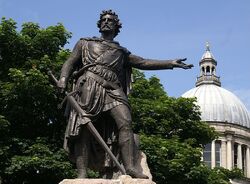 William Wallace refers to a Scottish Knight who led an army of Scots in an attempt to keep Scotland a free and independent kingdom. This attempt is featured and playable in his campaign which introduces new players the gaming experience of Age of Empires II.
William Wallace is a unit available only in the Scenario Editor and makes its only appearance in the last Celts Campaign,The Battle of Falkirk. The unit itself has the appearance of a Champion but has much stronger statistics as he is a hero and the strongest unit in the game.
Attack:20
Hitpoints:400
Armor:5
Pierce Armour:5
William Wallace Learning Campaign
Edit
Marching and Fighting
Edit
This campaign is where the player learns the basic game controls. You start with one Militia. Walk from Flag to Flag. At one flag you get three more militias and a Knight. Then destroy the English Outpost. Then head to the village. Then English Militias come to attack your village so defeat them to win the scenario.
Note: Although your in the Dark Age, the gaia village is Feudal Age. You cannot create villagers from the Town Center (though cheats still work)
To the North-West from the village there is one English militia in the woods but he cannot be reached due to player being unable to create villagers.
Feeding the Army
Edit
You learn how to use gather stockpiles with villagers. To win Collect 50 Food , 50 Wood and 50 Gold using a villager. Gather Food from the Berry Bushes and by hunting Deer, Wood from Trees and Gold from Gold mines.
Training the Troops
Edit
You learn how to create units and build buildings. You need to build a barracks and create 4 militia to win. You start by creating villagers and building houses.
Research and Technology
Edit
This campaign teaches the player how to advance through the ages. You need to advance to the Feudal Age and Repel the English raids to win. You need to Advance from the Dark age to the Feudal age. To do that you need 500 food (Forage Bushes, Deer, Wild Boars, Sheep, Fish and Farms) and Two Dark Age Buildings (it can be any building but a Farm, Outpost and Palisade Wall). During advancing to the Feudal Age, English will raid your village with a few militia. After upgrading your militia to Men-at-arms, English militia and a Knight come to attack so defeat them to win.
NOTE: The English are strangely referred as British on Screen (but are still referred as English by Instructor)
There is a way to win the game without completing these objectives. All a player must do is cut their way out of the forest surrounding their base. Outside is a desert area (where the player was never supposed to see). March a small group of villagers and militia up to the Northwest region, where a lone British soldier is surrounded by tree's. Cut down the tree's and kill the soldier to win. (It is faster and easier to complete the objectives listed above, however).
The Battle of Stirling
Edit
You learn how to build an army. You start with villagers and a scout cavalry. You need a large army of about 12 soldiers to invade the English (so it's also good to advance age) and you need to defeat the army and destroy their tower to win. You need to face archers and men-at-arms. During advancing to the Feudal Age a group of five English militia will raid player's village.
NOTE: You learn Skills about a Random Map Game (e.g. you start with 3 villagers, a scout cavalry and a town center).
Just like in previous scenario, there is a way to win the game without destroying the tower. After destroying all of the English soldiers, the player must cut his way out of the forest surrounding his village and send out his troops to the North of English camp. There will be a lone archer surrounded by trees. After killing him the English will be automatically defeated.
Forge an Alliance
Edit
This is where the player learns about controlling Monks and their Allies. You start in the Feudal Age. You need to collect 3 Relics. One is close to your village near one of your monks. The Second is with your allies up on a hill. The third is with the English near their mining camp so you need a large army to eliminate the soldiers. The defenders you will face are Knights, Men-at-Arms and Crossbowmen. At some point they will attack your allies village. After you have 30 units, your allies will tribute you 400 Wood and 550 Food.
NOTE: This is the only William Wallace scenario where not only the Instructor speaks. The Scottish Allies speak too. If you Lose a Monk you can create more in the Castle Age.
The player does not need to capture all of the relics to win. Defeating the English also grants victory.
The Battle of Falkirk
Edit
You start in the Feudal Age (but you shortly advance age). You need a large army to destroy the English Castle in order to win. If you build a Castle, William Wallace along with some Woad Raiders and Cavalier will join you with Galleons and transport ships. These units will help you destroy the Castle and finish the final mission.
NOTE: This is the only William Wallace Scenario with two objectives.