The Travois is a Native American civilian unit that is featured in Age of Empires III and Age of Empires III: The WarChiefs.
Age of Empires III Edit
In Age of Empires III, the Travois automatically travels the length of a Trade Route at a speed of 4.25 before the route is upgraded to carry stagecoaches or locomotives.
This Travois only delivers experience along a Trade Route, moves slowly compared to its upgraded versions, and does not offer any line of sight. The Travois belongs to 'Mother Nature' (Gaia) and cannot be controlled by players.
Age of Empires III: The War Chiefs Edit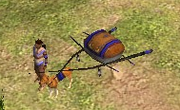 The Travois is a Native American unit that is similar to the Wagon units the European civilizations and Rickshaw use to construct buildings for free. The Travois is different because it is able to build any building except Town Centers and Trading Posts, which have their own specific Travois.
Ad blocker interference detected!
Wikia is a free-to-use site that makes money from advertising. We have a modified experience for viewers using ad blockers

Wikia is not accessible if you've made further modifications. Remove the custom ad blocker rule(s) and the page will load as expected.