Tours
Talk

0
2,034pages on
this wiki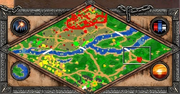 Tours
is a
campaign
map in the
Battles of the Conquerors
. The
Franks
, led by Charles Martel, must defend their homeland from the Arab invasion of 732.
Objectives
Edit
Possibly Appearing
Edit
Since part of the Moslem baggage train has been lost, you will now need to defeat the Moslems.
Strategy
Edit
You face two enemies on this map: The Berbers (Turks, yellow) and the Moors (Saracens, green).
In the north lies Tours, a city you own, with a handful of villagers, lots of buildings, and no army. The army, consisting of 16 Knights, 11 Throwing Axemen and the hero Charles Martel, is at the south of the map, not too far from the now-Moor city (Poitiers).
With this initial force, it's possible to break through the wall, sneak in, and steal the trade carts that will grant you victory. If you lose a single trade cart, you will have to defeat all enemy forces, so you should take good care of them. Please note that, unlike most maps in the game, your hero does not need to survive, so feel free to sacrifice him if it will grant you victory.
If you lose the trade carts, you will need to fight the enemy forces. Since they rely heavily on Infantry, Camels and Mamelukes, sending in Knights will be costly, so you should rely on infantry (particularly the Franks' unique unit, Throwing Axemen).