Sufi Temple
Talk

0
2,033pages on
this wiki
The Sufi Temple is present as Trading Post sites in the Age of Empires III: The Asian Dynasties expansion.
The word "Sufi" first appeared in the 8th century and is considered to be a reference to the coarse wool garments worn by spiritual men who sought lives of spiritual harmony, free from bodily pleasure and in harmony with nature. Sufism became a sect of Islam in its own right and continues to practice in the modern day.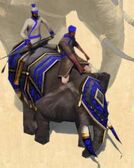 The Sufi provide the War Elephant, which on its own is the most powerful native unit in Age of Empires III (It is like a weaker version of the Mahout Lancer), possessing a very high health and a high melee attack, making it powerful Heavy Cavalry, although its resistance is weak. However, because of the low build limit of six per tribe, the use of the elephant is limited. In fact, it has the lowest build limit among the standard native soldiers, superseded only by the Medicine Man of the Maya, the Cree Coureur des Bois, and the Nootka War Chief. It is suggested to use the elephants only as support, as they are expensive, and could easily fall prey to heavy infantry if not covered.
Upgrades
Edit
Pilgrimage: Price: 100 food, 100 wood. Ships 1 fattened goat for every 2 minutes of the game that has passed, up to 30 minutes.
Fasting Price: 100 food, 100 coin. Increases all villager rates, while giving them lower hit points.
Sharia Price: 225 food, 225 coin. Increases villager limit with 10%.
In general, the Sufi is one of the better tribes to ally with, giving their powerful economic upgrades. Their units is of limited use, but especially the Sharia improvement is good, namely for the Dutch, the French and the Japanese, due to their lower villager limits. One should take note, that when taking the Fasting improvement, villagers are quickly killed if attacked, making them more vulnerable. Therefore, with this upgrade, the villagers should be kept safe.