Porcelain Tower
Talk

0
2,033pages on
this wiki
This article is a stub. You can help the Age of Empires Series Wiki by expanding it.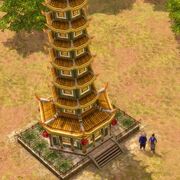 The Porcelain Tower is a Chinese Wonder in Age of Empires III: The Asian Dynasties. It is similar to the European Factory in that it produces resources for free. A player can chose it to produce a Wood, Coin, Food trickle, or a trickle of all resources at a lower rate (including export and experience).
It is important to note that the Age in which you build the tower determines the trikle amount for the rest of the game. For example, a Porcelain Tower built in the Colonial Age will have a food trickle of 3.0/s, and will not increase when aging up. Therefore, it is important to consider when the best time to build the tower is.
Abilities
Edit
You can choose between a trickle of food, a trickle of wood, a trickle of gold or a trickle of each plus experience and a trickle of export all together.
Colonial Age
Fortress Age
Industrial Age
Imperial Age
Food
3.0/s
4.50/s
6.0/s
6.50/s
Wood
2.50/s

4.0/s

5.50/s
6.0/s
Coin
2.50/s
4.0/s
5.50/s
6.0/s
Combination
0.60/s Food
0.60/s Wood
0.60/s Coin
0.18/s Export
0.18 xp/s
(2.16 total)
1.25/s Food
1.0/s Wood
1.0/s Coin
0.25/s Export
0.25 xp/s
(3.75 total)
1.50/s Food
1.10/s Wood
1.10/s Coin
0.40/s Export
0.40 xp/s
(4.50 total)
1.50/s Food
2.0/s Wood
1.50/s Coin
0.50/s Export
0.50 xp/s
(6.0 total)
Nothing.