"You have advanced to the Mythic Age through the Authority of Osiris"
Osiris is a Mythic Age Egyptian minor god, available to Isis and Ra. For Osiris as a Godlike hero unit, see Hero Unit below.
Attributes
Edit
God Power
Edit
Son of Osiris: Turns the Pharaoh into a powerful, lightning-wielding demigod.
Technologies
Edit
Myth Unit
Edit
Osiris' bonuses are offensive and diverse. He improves several aspect of Camelry, turning them into all-round cavalry with an impressive speed of 7.2. He also improves Kebenits, probably giving a player the edge in naval battles. His God Power, Son of Osiris, transforms the Pharaoh into an incredibly powerful hero. He also allows for the creation of another Pharaoh. This allows the normal Pharaoh to stay at the base empowering buildings, while the Son of Osiris can wreak havoc on the battlefield. Alternatively, the player can have two Pharaohs empowering, a useful bonus for Isis players. (In older versions of the game, the Son of Osiris god power causes a glitch when New Kingdom is researched, allowing another Pharaoh to spawn, giving three Pharaohs – 1 Son of Osiris and 2 regular Pharaohs.)
Hero Unit
Edit
"I have come upon the Earth and with my two feet taken possession!"
-Osiris' first words after being reborn.
Osiris
Civilization
Egyptians
Age/God
Osiris
Unit Type
Hero
Cost
N/A
Population
N/A
Attack
Hack
Pierce
Crush
5000
5000
5000
Range
25 meters
Hit Points
20000
Armour
Hack
Pierce
Crush
99%
99%
99%
Speed
5 meters/second
Line of Sight
50 meters
Train at
N/A
Train Time
0 seconds

In the Age of Mythology campaign, Osiris appears as a non-controllable God in a cut scene. Osiris also appears in the scenario editor as a special God-strength hero unit, far more powerful than any other unit. Unlike the greater Titans such as Gaia and Kronos, Osiris has fewer hit points and cannot regenerate them. However, Osiris makes up for this by having the highest amount of armor in all categories as well as the highest attack of any unit in the game (discounting buildings, as the Tower of Odin has far superior defenses). In addition, Osiris can unleash mighty chain lightning attacks that deal splash damage to a group of enemy units at a distance. This makes Osiris the strongest unit in the entire game. He can easily defeat Titans such as Prometheus even when outnumbered, and in excess of 200 Ballistae are required to defeat him (for comparison, 100 ballistae can easily defeat Kronos).
Being a hero unit, the stats and abilities of Osiris can be improved by technologies that benefit heroes. The type of these abilities and its scope of impact depends on what civilization is played in the scenario editor.
If played as the Greeks, researching Olympic Parentage increases Osiris' hit points by 5,000.
Instead of moving his feet, Osiris levitates in a tiptoe posture as a form of transportation.
Despite having a large size and high stature, Osiris is actually a Hero, but is different in that it can defeat any unit type including Titans and buildings.
Mythology
Edit
He is the father of Horus by Isis and Anubis by Nephthys. His brother is Set and sisters are Isis and Nephthys, His father and mother are Geb and Nut respectively. He was cut to pieces by his evil brother Set, but Isis bound them together by mummification, and resurrected him. He then moved to the underworld to be the god of the dead, but not before conceiving Horus.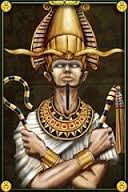 Originally, Osiris used a different portrait. In the final portrait he is given green skin, common to his appearances in Egyptian art.

Osiris' newer portrait uses Greek-style borders instead of Egyptian-style borders. This is likely an oversight.

Osiris' words upon his appearance in the campaign ("I have come upon the Earth and with my two feet taken possession!") are a quote from the Book of the Dead, where it is attributed to the god Tmu.
Gods
Culture
Archaic Age
Classical Age
Heroic Age
Mythic Age
Greek
Zeus
Hades
Poseidon
Athena
Hermes
Ares
Apollo
Dionysus
Aphrodite
Hera
Hephaestus
Artemis
Egyptian
Ra
Isis
Set
Bast
Ptah
Anubis
Hathor
Sekhmet
Nephthys
Osiris
Horus
Thoth
Norse
Thor
Odin
Loki
Freyja
Heimdall
Forseti
Skadi
Bragi
Njord
Baldr
Tyr
Hel
Atlantean
Kronos
Oranos
Gaia
Prometheus
Leto
Oceanus
Hyperion
Rheia
Theia
Helios
Atlas
Hekate
Chinese
Fu Xi
Nü Wa
Shennong
Huang Di
Sun Wukong
Chang'e
Dabo Gong
Zhong Kui
He Bo
Chongli
Ao Kuang
Xi Wangmu
Ad blocker interference detected!
Wikia is a free-to-use site that makes money from advertising. We have a modified experience for viewers using ad blockers

Wikia is not accessible if you've made further modifications. Remove the custom ad blocker rule(s) and the page will load as expected.