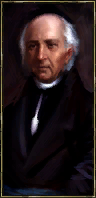 Miguel Hidalgo is a revolutionary Politician in Age of Empires III: The WarChiefs. He is available to the Portuguese and Spanish, should they choose to Revolt.
He provides the player with a band of outlaws, comprising of Pistoleros, Renegados, and Comancheros.
Miguel Gregorio Antonio Ignacio Hidalgo-Costilla y Gallaga Mandarte Villaseñor (8 May 1753 – 30 July 1811), (aka: Miguel Hidalgo y Costilla) was a Mexican priest and a leader of the Mexican War of Independence
As a priest, Miguel Hidalgo was assigned a church in Dolores, Mexico. When he arrived, he was shocked by the poverty he found. He tried to help the poor by showing them how to grow olives and grapes, but in Mexico it was discouraged to grow those crops because of Spanish imports of the items. In 1810 he gave the famous speech, "The Cry of Dolores," calling upon the people to protect the interest of their King, Fernando VII (who was captured by Napoleon), by revolting against the European-born Spaniards who had overthrown the Spanish Viceroy. As he then marched across Mexico, he gathered an army of nearly 90,000 poor farmers and Mexican civilians. They attacked and killed both Peninsular and American born white elites. But Hidalgo's army lacked training and was poorly armed. Eventually, Hidalgo's army ran into a clan of 6,000 well trained and armed Spanish troops. Much of Hidalgo's army fled or was killed. Hidalgo himself was later executed by a firing squad on July 30, 1811.
Ad blocker interference detected!
Wikia is a free-to-use site that makes money from advertising. We have a modified experience for viewers using ad blockers

Wikia is not accessible if you've made further modifications. Remove the custom ad blocker rule(s) and the page will load as expected.