This article is about the building in Age of Empires. For similar buildings in other games, see Market.
Market
Economical
First Appearance
Age of Empires
Cost
150 Wood
Age Available
Tool Age
Base Hit Points
350
Use
Research technologies
Enable tribute payments
Civilizations
All
The Market is an economic building in Age of Empires that features the ability to pay tributes to other players, and provides the ability to research many useful upgrades that benefit the economy of a civilization. Most of these technologies found in this building increase the rate of resource collecting as well as ones that improve the food quantities of Farms. The Wheel is considered by some as the most useful upgrade since it makes Villagers move and collect resource faster as well as enabling the development of Chariot units.
Upgrades
Edit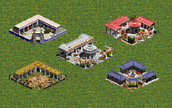 Artisanship - Increases Villager gathering rate of Wood and the range of archers
Wheel - Increases Villager speed and enables Chariot units from Archery Range and Stable
Plow - Increases Farm capacity of Food
Ad blocker interference detected!
Wikia is a free-to-use site that makes money from advertising. We have a modified experience for viewers using ad blockers

Wikia is not accessible if you've made further modifications. Remove the custom ad blocker rule(s) and the page will load as expected.