Market
Talk

0
2,034pages on
this wiki
This page or section may need to be cleaned up to reach a higher standard of quality.

This may include editing to correct spelling and grammar, and rewriting sections to ensure they are clear and concise.
The Market is a building that provides economic improvements in Age of Empires, II, III and Age of Mythology. It also exchanges one resource for another. Markets also serve as the main drop-off point for traded goods in Age of Empires II and Age of Mythology.
Age of Empires
Edit
Market
Economical
First Appearance
Age of Empires
Cost
150 Wood
Age Available
Tool Age
Base Hit Points
350
Use
Research upgrades
Civilizations
All
The Market in Age of Empires unlocks the ability to pay tributes to other players, and provides the ability to develop many useful upgrades that benefits the economy of a civilization. Most of these technologies found in this building increases the rate of resource collecting as well as ones that improve the food quantities of Farms. The Wheel is considered by some as the most useful upgrade since it makes villagers move and collect resource faster as well as enabling the development of chariot units.
Upgrades
Edit
Age of Empires II
Edit
The Market enables the player to buy and sell resources. Markets also allows the player to build Trade Carts which trade for Gold in other Markets, and developing economic related upgrades. Markets operate based on exchange rate. The more Wood the player buys, the more Gold it would cost to obtain these resources. The Market can be built once Feudal Age is fully developed in the Town Center. The equation for gold received while trading in other markets is exponential. The farther away the market is, the more gold the player is given. It is always more worth it to make markets far away from other markets even though the trade carts will take longer to reach their destination. As the markets increase in distance, the gold received more than doubles over time. As far across the map as you can go (83 market lengths), ~250 gold is produced, as opposed to 3 lengths away, which gives you only 1 gold.
As the Dark Ages gave way to better economic conditions, the exchange of produce and craft goods increased. Towns of all sizes set aside an area for a market where farmers and tradesmen could set up stalls for selling their merchandise. One or more days each week were designated market days and became the social highlight of the typical workweek. The market was also a place for the exchange of ideas, entertainment (bards, acrobats, musicians), and the spreading of news.
Upgrades
Edit
Age of Empires III
Edit
The Market in Age of Empires III provides early economic upgrades, in addition to resource trading abilities. Unlike previous games, players cannot build Trade Carts to trade with other civilizations.
Upgrades (European Markets):
Edit
Age of Mythology
Edit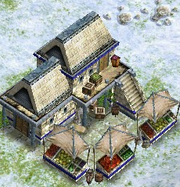 The Market is a Heroic Age building available to all civilizations, and a requirement to reach the Mythic Age.
The Market allows players to train Caravans, buy and sell resources, and research technologies.
Available Technologies: