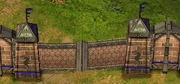 The Iron Wall is an upgrade of the Bronze Wall, only available to the Atlanteans in Age of Mythology: The Titans.
The upgrade is more expensive than the Greek and Egyptian Fortified Wall, costing 600 Food and 450 Gold (compared to the Fortified Wall's 500 Food and 400 Gold). It makes up for that with 200 more Hit Points.
The Iron Wall can be upgraded into the Orichalkos Wall for 850 Food and 600 Gold.
Ad blocker interference detected!
Wikia is a free-to-use site that makes money from advertising. We have a modified experience for viewers using ad blockers

Wikia is not accessible if you've made further modifications. Remove the custom ad blocker rule(s) and the page will load as expected.