Government Center



Bronze Age Government Center in the Egyptian template

Research
First Appearance
Age of Empires
Cost
250 Wood
Age Available
Bronze Age
Base Hit Points
350
Use
Research technologies
The Government Center is a research building in Age of Empires where many technologies can be found. It also allows players to build more than one Town Center. The technologies found in the Government Center are needed to develop advanced upgrades that are often essential in winning a game, especially in deathmatches. To build the Government Center, a Market must be built beforehand. Its counterpart in Age of Empires II is the University.
Upgrades
Edit
Bronze Age
Edit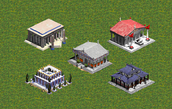 Iron Age
Edit
Ad blocker interference detected!
Wikia is a free-to-use site that makes money from advertising. We have a modified experience for viewers using ad blockers

Wikia is not accessible if you've made further modifications. Remove the custom ad blocker rule(s) and the page will load as expected.