"On the island of Java, a new power is rising. Gajah Mada, prime minister of Majapahit conspires to build an empire to rule the waves and islands of the Archipelago. Will he be able to balance his unconditional loyalty to the king with his growing ambitions?"
Gajah Mada is a campaign in Age of Empires II HD: Rise of the Rajas.
Gajah Mada was the chief minister of the Majapahit Empire in the 14th century. He is famous for his Sumpah Palapa oath, where he said that that he would not eat palapa fruit until he conquered the entire Indonesian archipelago. His struggle to fulfill that oath forms the basis of the campaign.
Although the campaign is named after Gajah Mada, the first scenario actually focuses on the story of Mapapahit establishment by Raden Wijaya and his followers.
Gajah Mada
is an
infantry
hero
found in the titular campaign and in the
Scenario Editor
. He is displayed as a sword-wielding infantry with his own unique sprite. He makes two appearances in
Unconditional Loyalty
and
The Pasunda Bubat Tragedy
. If he is killed during the campaigns, the game is not lost. As a hero, he cannot be
converted
and can
regenerate
health.
Campaign
Edit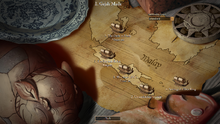 There are five scenarios in the Gajah Mada campaign. The player will always play as the Malay with red color.