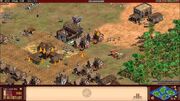 Enemy Archipelago is a random map in Age of Empires II HD: The African Kingdoms.
Overview
Edit
The map has 1 island for every two players, up to 4 islands. The teams are split up to one player per island, so the islands consists of two enemies. The water is teeming with Dolphins, Tuna, and Marlin, with plenty of shore fish. The Islands have 2~3 medium sized forests but the rest of the resources remain standard. Players fight one another in near 1v1 fashion.
Ad blocker interference detected!
Wikia is a free-to-use site that makes money from advertising. We have a modified experience for viewers using ad blockers

Wikia is not accessible if you've made further modifications. Remove the custom ad blocker rule(s) and the page will load as expected.