Arsenal
Talk

0
2,033pages on
this wiki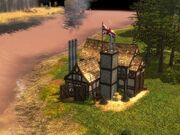 The Arsenal is a military building in Age of Empires III.
The building provides improvement technologies of the three major unit lines - Infantry, Cavalry and Artillery while also providing improvements for anti-ship-buildings as well.
Whether players build one or a mix of unit lines, the bonuses provided in the arsenal can give their armies an edge. The "Advanced Arsenal" card available to some civilizations from their home city adds additional improvements to the arsenal.
Technologies
Edit
Infantry
Edit
Name
Cost
Description
Infantry Breastplate
200 W, 200 G

Archer and hand infantry hitpoints increased.
Hand Infantry: Changes Hitpoints by 10.00%
Crossbowman: Changes Hitpoints by 10.00%
Tupi Blackwood Archer: Changes Hitpoints by 10.00%
Carib Blowgunner: Changes Hitpoints by 10.00%
Incan Bolas Warrior: Changes Hitpoints by 10.00%
Eagle Runner Knight: Changes Hitpoints by 10.00%
Seminole Sharktooth Bowman: Changes Hitpoints by 10.00%
Veteran Longbowman: Changes Hitpoints by 10.00%
Cetan Bow: Changes Hitpoints by 10.00%
Aenna: Changes Hitpoints by 10.00%
Macehualtin: Changes Hitpoints by 10.00%
Tupi Blackwood Archer: Changes Hitpoints by 10.00%

Counter Infantry Rifling
200 W, 200 G

Skirmishers armed with rifles (Skirmishers, Abus Guns, Cassadores, Jaegers, Strelets, Cherokee, Cree) do more damage to heavy infantry (Musketeers, Halberdiers, etc.)
Skirmisher: Adds 1.00 to All Actions Damage Bonus against Heavy Infantry
Veteran Cassador: Adds 1.00 to All Actions Damage Bonus against Heavy Infantry
Cherokee Rifleman: Adds 1.00 to All Actions Damage Bonus against Heavy Infantry
Jaeger: Adds 1.00 to All Actions Damage Bonus against Heavy Infantry
Strelet: Adds 1.00 to All Actions Damage Bonus against Heavy Infantry
Cree Tracker: Adds 1.00 to All Actions Damage Bonus against Heavy Infantry
Abus Gun: Adds 1.00 to All Actions Damage Bonus against Heavy Infantry
Forest Prowler: Adds 1.00 to All Actions Damage Bonus against Heavy Infantry
Wakina Rifle: Adds 1.00 to All Actions Damage Bonus against Heavy Infantry
Klamath Rifleman: Adds 1.00 to All Actions Damage Bonus against Heavy Infantry
Navajo Rifleman: Adds 1.00 to All Actions Damage Bonus against Heavy Infantry
Cree Tracker: Adds 1.00 to All Actions Damage Bonus against Heavy Infantry
More

Socket Bayonet
400 W, 400 G

Musketeer, Fusilier, Janissary, Highlander, and Grenadier hand attack increased.
Musketeer: Changes Hand Attack Damage by 20.00%
Janissary: Changes Hand Attack Damage by 20.00%
Grenadier: Changes Hand Attack Damage by 20.00%
Highlander: Changes Hand Attack Damage by 20.00%
Veteran Musketeer: Changes Hand Attack Damage by 20.00%
Janissary: Changes Hand Attack Damage by 20.00%
Highlander: Changes Hand Attack Damage by 20.00%
Grenadier: Changes Hand Attack Damage by 20.00%
Grenadier: Changes Hand Attack Damage by 20.00%
Highlander: Changes Hand Attack Damage by 20.00%
Janissary: Changes Hand Attack Damage by 20.00%
Musketeer: Changes Hand Attack Damage by 20.00%
More

Flint Lock
200 W, 250 G

Infantry armed with muskets or rifles hitpoints increased.
Gunpowder Unit: Changes Hitpoints by 10.00%

Paper Cartridge
350 W, 350 G

Infantry armed with firearms have their attack increased.
Gunpowder Unit: Changes All Actions Damage by 15.00%

Military Drummers
150 W, 150 G

All infantry march faster.
Infantry: Changes Speed by 10.00%
Name
Cost
Description
Cavalry Cuirass
100 W, 300 G

Hand cavalry hitpoints increased.
Hand Cavalry: Changes Hitpoints by 10.00%

Ranged Cavalry Caracole
200 F, 300 W

Ranged cavalry attack and range increased.
Light Cavalry: Adds 2.00 LOS
Light Cavalry: Adds 2.00 to Ranged Attack Maximum Range
Light Cavalry: Changes all Actions Damage by 10.00%

Pillage
 ?

Hand cavalry attack against buildings increased
Changes Siege Attack Damage Bonus against Buildings by 25.00%
Artillery
Edit
Name
Cost
Description
Incendiary Grenades
400 W, 300 G

Grenadiers have an increased burst radius and do more damage to buildings.
Grenadier: Changes Siege Attack Damage Bonus against Buildings by 30.00%
Grenadier: Adds 1.00 to Ranged Attack Damage Area
Grenadier: Adds 1.00 to Ranged Attack Damage Area
Grenadier: Adds 1.00 to Ranged Attack Damage Area

Gunner's Quadrant
100 F, 100 W

Artillery line of sight increased.
Artillery: Adds 6.00 LOS

Heated Shot
150 F, 150 W

Artillery and combat buildings do more damage to war ships.
Artillery: Changes Bombard Attack Damage Bonus against Ships by 50.00%
Buildings: Changes Anti Ship Attack Damage Bonus against Ships by x0.5

Professional Gunners
400 F, 100 W

Artillery hitpoints increased.
Artillery: Changes Hitpoints by 10.00%

Trunion
400 W, 200 G

Trunion invention makes artillery more mobile.
Artillery: Changes Speed by 15.00%