The Archery Range is a military building in Age of Empires, first available in the Tool Age. At first, only basic Bowmen can be created, but later, Elephant Archers and Heavy Horse Archers can be created here to devastating effect. Chariot Archers come available once Wheel has been upgraded at Market. Building a market is also a prerequisite of building a Government Center and a Temple in the Bronze Age.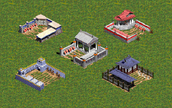 Ad blocker interference detected!
Wikia is a free-to-use site that makes money from advertising. We have a modified experience for viewers using ad blockers

Wikia is not accessible if you've made further modifications. Remove the custom ad blocker rule(s) and the page will load as expected.