Home
Talk

68
2,131pages on
this wiki
Featured Article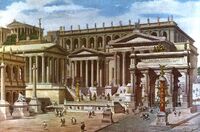 The Roman Empire is a playable civilization in Age of Empires: The Rise of Rome. The Romans control the empire from modern day Italy in the city of Rome, which was once one of the largest cities in the world. At its highest point, their empire extended across large parts of Europe, some of North Africa and Asia Minor.
The Romans the game are primarily an offensive civilization but they also work well under defensive strategies due to their cheaper cost of constructing buildings and fortifications. Due to their availability to powerful Iron Age Technologies, they are a formidable fighting machine in most games since they produce some of the finest Infantry from the Barracks....(more...)
Recently Featured: Assyrians
Harder, Better, Faster, Stronger
Harder, Better, Faster, Stronger is a community effort.
Harder, Better, Faster, Stronger is the community improvement's drive, these week HBFS is:
Unit
Did You Know...?
From Age of Empires Wiki's latest articles.
...that the Age of Empires Wiki is one of the oldest Wikia wikis still active? We have been running since September, 2005!
...that George Crushington is cheat unit in form a stone bust of George Washington? And that his code "Where's that axe?" is a reference to the famous myth of his father's Cherry Tree?
...that currently all the maintenance of ELO and ELO 2 and supervision of Age of Empires and Age of Mythology series is run by Robot Entertainment, one of the companies formed after Ensemble Studios disbanded?
Polls
What is your favorite Age of Empires Game?
What do you think (or hope) will be the basis for the next title in the Age of Empires series?
Announcements from Robot Entertainment and Community News
Create blog post
Refresh
Microsoft have announced the release of an Age of Empires II HD Edition. Re-imagined by Hidden Path Entertainment, this release is limited to Steam users. It becomes available for all non-pre-purchasers on 9 April, 2013 and costs $19.99 USD.

The (partial) remake features graphical enhancements, widesc…

Read more >

For a little while I thought his list had went offline, but I found a post browsing the archives at the official AoE3 forums that mentioned it coming back online. So for those of you who may have thought the list gone for good, here you go.

When using the list as a reference for making edits, only u…

Read more >

What do you think will be the next installment in the Age of Empires series? Personally, I'm hoping for some historical progression myself; Age of Empires Online didn't particularly interest me. Industrial Revolution period anyone? Perhaps World War I? Remember to vote!

~More importantly, please note th…

Read more >
See more >
Helping Out
Not sure where to start?
The Community Portal is a great place to learn about the wiki. It contains information for newcomers and regular members alike:
Benefits of creating an account.
Info on getting started and editing the wiki.
How to customize your User page.
See what's missing on pages.
How to maintain pages and make sure they have a consistent look.
Reference materials on templates, categories and more.