Featured Article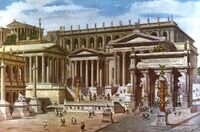 The Romans are a playable civilization in Age of Empires: The Rise of Rome. The Romans control the empire from modern day Italy in the city of Rome, which was once one of the largest cities in the world. At its highest point, their empire extended across large parts of Europe, some of North Africa and Asia Minor.
The Romans in the game are primarily an offensive civilization but they also work well under defensive strategies due to their cheaper cost of constructing buildings and fortifications. Due to their availability to powerful Iron Age Technologies, they are a formidable fighting machine in most games since they produce some of the finest Infantry from the Barracks....(more...)

Recently Featured: Assyrians
Did You Know...?
From Age of Empires Wiki's latest articles.
...that the Age of Empires Wiki is one of the oldest wikis on Wikia still active?
...that ever since the 10th anniversary of its founding in September 2015, the Age of Empires Wiki became the top 500 out of 5000 most active wikis? We have grown since then and is currently ranked at the top 5% percentile!
...that George Crushington is cheat unit in form a stone bust of George Washington? And that his code "Where's that axe?" is a reference to the famous myth of his father's Cherry Tree?
...that currently all the maintenance of ELO and ELO 2 and supervision of Age of Empires and Age of Mythology series is run by Robot Entertainment, one of the companies formed after Ensemble Studios disbanded?
Polls
What is your favorite Age of Empires Game?
What do you think (or hope) will be the basis for the next title in the Age of Empires series?
What is your favorite civilization in Age of Empires?
What is your favorite civilization in Age of Empires II before The Forgotten expansion?
What is your favorite civilization in Age of Empires II introduced after The Forgotten expansion?
What is your favorite civilization in Age of Empires III after the latest expansion?
What is your favorite civilization in Age of Mythology after the Tale of the Dragon expansion?
Thank you for your votes!
Click here to see more polls!
Helping Out
Not sure where to start?
The Community Portal is a great place to learn about the wiki. It contains information for newcomers and regular members alike:
Benefits of creating an account.
Info on getting started and editing the wiki.
How to customize your User page.
See what's missing on pages.
How to maintain pages and make sure they have a consistent look.
Reference materials on templates, categories and more.
Announcements and Community News

Create blog post
Refresh
Hello everybody,

first of all sorry for my long absence and neglecting wiki activity, I had a lot to do lately.

But on to the task at hand: As we all know, the Age of Empires pages have been really neglected and their standard is nowhere near that of the second installment, especially concerning pict…

Read more >
See more >
Strategy Games
Go to these sites for info or for help with your own wiki!
Age of Empires • Battle Brothers • Bloons • Bomberman • Boom Beach • Castle Clash • Civilization • Clash of Clans • Command & Conquer • Company of Heroes • Dawn of Gods • Dawn of War • Deception • Edain • Fire Emblem • Homeworld • KanColle • Legion TD 2 • Plants vs. Zombies • StarCraft • Total War • Victory Belles • Wargame • We Happy Few
Want your community included? See how!

Ad blocker interference detected!
Wikia is a free-to-use site that makes money from advertising. We have a modified experience for viewers using ad blockers

Wikia is not accessible if you've made further modifications. Remove the custom ad blocker rule(s) and the page will load as expected.